Looking for a way to save on your next trip to the nail salon in Virginia Beach, VA 23462? Look no further than Nail Works . With a variety of special offers available, you're sure to find a deal that works for you.
For online appointments, Nail Works is offering a special 10% off discount for a limited time. Simply book your appointment online and the discount will be applied at checkout. It's an easy way to save on your next nail service.
And if it's your birthday, Nail Works has a special offer just for you! When you check in at the salon during your birthday month, you can receive a discount of 10% to 15% off your services. It's the perfect way to pamper yourself on your special day.
But the savings don't stop there. Nail Works also has a rewards program where you can earn points for every dollar you spend. Once you reach 200 points, you'll receive a $5 reward to use on your next visit. It's a great way to get rewarded for your loyalty.
Make sure to take advantage of these special offers before they expire on 8/10/2023. And with Nail Works' convenient location in Virginia Beach, it's never been easier to treat yourself to a little self-care. Book your appointment today and start saving!
Nail Works – Nail salon 23462
Contact us: 314 Constitution Dr B, Virginia Beach, VA 23462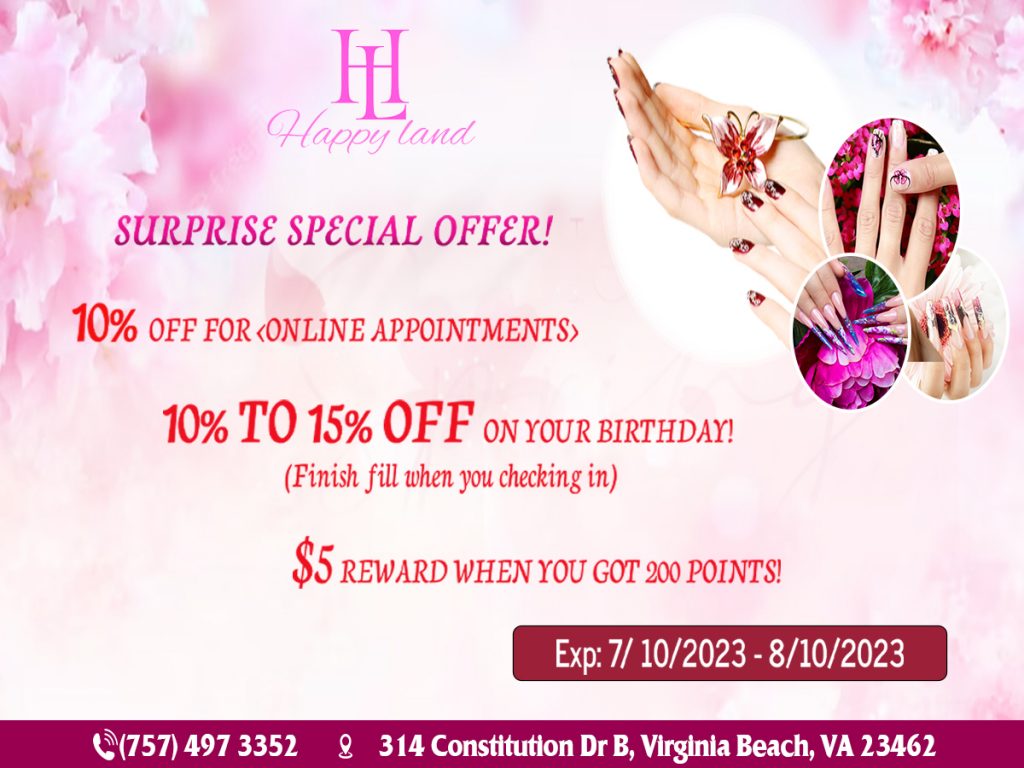 SURPRISE SPECIAL OFFER! Nail Works (HappyLand Nails & Spa) –nail salon in Virginia Beach, VA 23462
👑 10% OFF FOR ONLINE APPOINTMENTS
👑 10% TO 15% OFF ON YOUR BIRTHDAY! (Finish fill when you checking in)
👑 $5 REWARD WHEN YOU GOT 200 POINTS!
Exp: 7/ 10/2023 – 8/10/2023
Article Tags:
birthday
·
nail salon 23462
·
nail salon Virginia Beach
·
Nail Works
·
offer
·
promotion
·
Virginia Beach
Article Categories:
Others