Fall in Love with the Art of Nails
Step into a world of relaxation, luxury, and elegance with Milano Nails & Spa – where the art of beauty care comes alive! We are thrilled to announce our Grand Opening on July 29, 2023, at our brand-new location on the vibrant and bustling Yonge Street – 504 Yonge Street, Toronto, Ontario M4Y 1X9.
Famous for our exemplary services and high-quality standards, Milano Nails & Spa is a sanctuary designed for your personal beauty escape. We specialize in Manicures and Pedicures, offering a multitude of styles, colors, and innovative techniques that bring out the best in your nails. Our professional and friendly staff are highly skilled, ensuring a unique and unforgettable experience every time.
We understand that beauty has no age, which is why we offer specialized Kid Nails services for our younger clientele aged 5 to 11. With a range of fun colors and designs, your little ones can enjoy a touch of glamour too!
At Milano Nails & Spa, we believe in a holistic approach to beauty and self-care. Therefore, we also provide Artificial Nails for those who desire a flawless, long-lasting look. Not to mention our professional Waxing services, which guarantee smooth and radiant skin.
For any inquiries or to book your appointment, please call us at 416-972-9988 or visit our website. We can't wait to pamper you with the best beauty treatments that will leave you feeling refreshed, rejuvenated, and ravishing!
Experience the Milano Nails & Spa difference, where beauty, relaxation, and indulgence come together. Your journey to absolute bliss starts here!
*****
Nail salon in Bay-Cloverhill, Toronto, Ontario M4Y 1X9, Canada
https://milano-nails-and-spa-toronto.business.site/
https://www.instagram.com/milano_nails_and_spa/
https://www.facebook.com/profile.php?id=100093071117392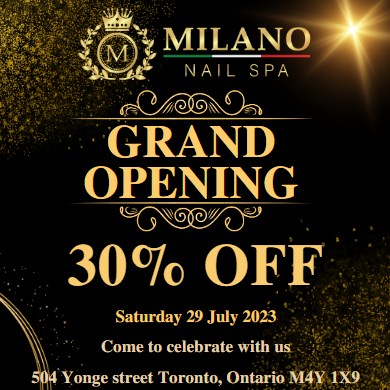 Please join us in celebrating our Grand Opening Weeks of Milano Nails & Spa from 07/25/2023 to 08/06/2023. * Enjoy 30% OFF all services on July 29th, 2023. * Enjoy 20% OFF all services on July 30th, 2023. * 10% OFF all services for other days. * Free snacks and soft drinks on July 29th, 2023. ✨ 𝐎𝐮𝐫 𝐒𝐞𝐫𝐯𝐢𝐜𝐞𝐬: 🔅 Manicure | Pedicure | Gel Polish | Shellac 🔅 Acrylic | Dipping Powder | Gel X 🔅 Waxing 💞 𝐑𝐞𝐟𝐞𝐫 𝐲𝐨𝐮𝐫 𝐟𝐫𝐢𝐞𝐧𝐝𝐬 𝐚𝐧𝐝 𝐟𝐚𝐦𝐢𝐥𝐲 𝐭𝐨 Milano Nails & Spa 𝐭𝐨 𝐫𝐞𝐜𝐞𝐢𝐯𝐞 𝐭𝐡𝐞 𝐛𝐞𝐬𝐭 𝐝𝐞𝐚𝐥𝐬. Enjoy the following together: ✔️ 100% cleanliness and hygiene ✔️ Creative and unique nail designs ✔️ High-quality professional nail care services ✔️ Modern unique spaces and a friendly atmosphere ✔️ A warm & welcoming staff ✔️ 1000+ gel color, 1000+ dip/powder color
Article Tags:
nail salon
Article Categories:
Grand Opening