As the leaves change colors and temperatures start to drop, it's time to indulge in some self-care and embrace the cozy vibes of fall. And what better way to do that than by taking advantage of the exciting fall promotions at Nolen Nail Spa? From luxurious spa pedicure dips to glamorous eyelash extensions, there's something for everyone to enjoy. Let's dive into the details of these irresistible offers.
COMBO PUMPKIN PIE SPA PEDICURE + DIP OR GEL MANICURE + COLLAGEN TREATMENT – $125
$5 OFF FOR PARAFFIN TREATMENT
$30 OFF FOR NEW SET VOLUME EYELASH EXTENSIONS AND $10 OFF FOR LASH BOTOX
Indulging in self-care is essential, especially during the fall season when we crave warmth and relaxation. Nolen Nail Spa's fall promotions offer the perfect opportunity to treat yourself and experience the ultimate spa escape. Don't miss out on these incredible offers – book your appointment at Nolen Nail Spa – nail salon in Nolensville TN 37135 today!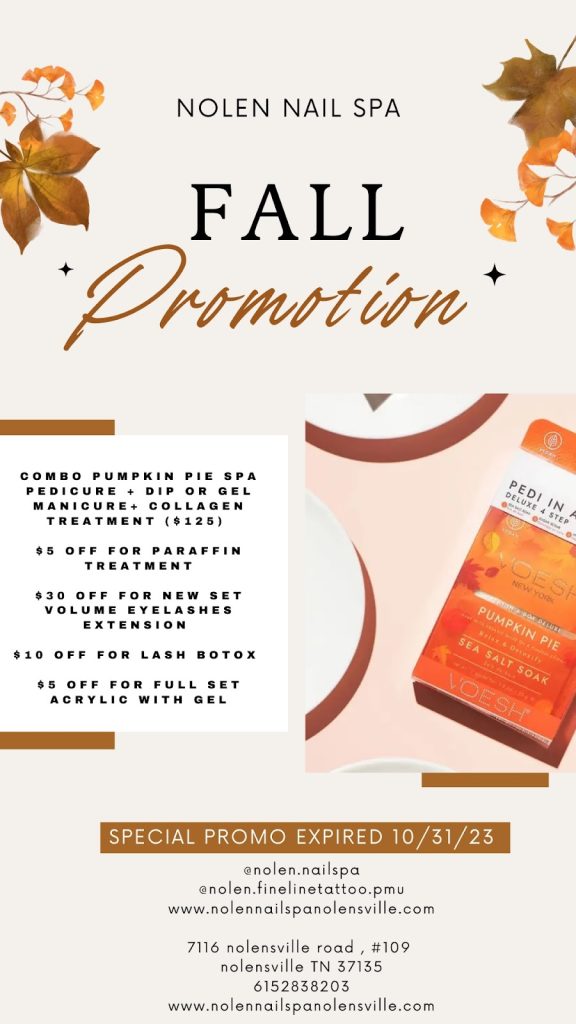 Article Tags:
eyelash
·
gel nails
·
manicure
·
paraffin treatment
·
spa pedicure
Article Categories:
Autumn/Fall